Questions from Weeks 5-8 of the Brownstone Tournament:
1.  What is this monument called? 
2.  Where on a car can you find the inertia reel?
3.  Name the movie starring these actors: Sylvester Stallone, Diane Lane, Rob Schneider
4.  Who is this bad guy?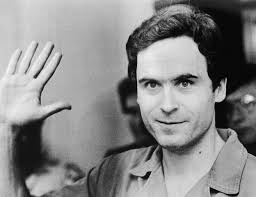 5.  Name the ten most recent U.S. Vice Presidents, including the sitting VP.
6.  What book is this quote from: "Second to the right, and straight on till morning."?
Answers after the jump.
Answers:
1.  Christ the Redeemer
2.  Seat belt
3.  Judge Dredd
4.  Ted Bundy
5.  Joe Biden, Dick Cheney, Al Gore, Dan Quayle, George H.W. Bush, Walter Mondale, Nelson Rockafeller, Gerald Ford, Spiro Agnew, Hubert Humphrey
6.  Peter Pan